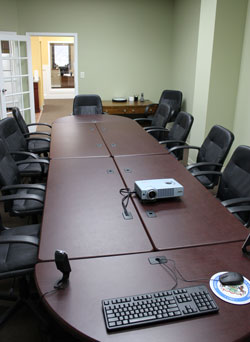 In February 2014, the Lycoming Law Association opened its new office and conference center. The conference facilities are available for rental by both members and non-members.
The available facilities include a conference room and large conference hall. A kitchenette allows for the serving of meals, for extended events. Coffee and food services are available. The space offers a separate waiting area.
The conference room is furnished with a large conference table. The space is ideal for depositions or small presentations.
The large conference hall seats 45 in a comfortable space, with excellent acoustics. A speaker's podium, as well as projection equipment, a large screen, DVD and VHS players and television, are available for use.
Lycoming Law Association members may reserve the facility at no cost. The daily cost for non-LLA members is $100 for the conference room and $150 for the large conference hall. Beverage service is available to both members and non-members at a cost of $25. The rooms are open for use during regular hours, 9:00 AM to 3:00 PM (to 1:30 PM on Friday). Arrangements for after hours use may be requested.
An application must be completed by all users.
Scheduling arrangements may be made with Michele Frey, (570) 323-8287 or mfrey@lycolaw.org.